You can now use bitcoin to buy fine jewelry and watches, ranging from engagement rings to Pandora charms, in all REEDS Jewelers locations and online at REEDS.com. We're also offering gold ingots and loose diamonds at REEDS.com for those of you looking to diversify your bitcoin holdings. Shipping is free for all purchases.
Since 1946, REEDS Jewelers has been trusted by generations. With a focus on personalized service, attention to detail, and lasting quality and style, we want you to feel like family. Shop for jewelry and watches online or in any of our 65+ retail stores across the United States. All REEDS Jewelers return policies and customer satisfaction guarantees apply to purchases made with bitcoin.
Founded in 1946 by Bill and Roberta Zimmer, REEDS is a true American success story, having grown from one hometown store to a full-service multi-channel jewelry retailer, with retail stores in 13 states, and a leading e-commerce website, REEDS.com. Still a proud family-run business, REEDS strives to make every customer "feel like family", with personalized service, attention to detail, and lasting quality and style. To view our current list of stores, please refer to our REEDS Jewelers store locator.
PLEASE NOTE: REEDS Jewelers, Inc., headquartered in North Carolina, and its catalog and web site, REEDS.com, are not associated with any other jewelry chain using the name REEDS or REEDS Jewelers. Refer to our list of authorized REEDS Jewelers store locations.
Founder Bill Zimmer would often tell his associates: "The most important thing I've learned is that you never argue with a customer. You've just got to do right by people." He carried that philosophy into his treatment of employees, vendors and customers alike, stating that his priorities were to "treat all my people like I'd want to be treated, I respect them and I let them know they were loved and appreciated." This philosophy has been carried on by the new generation, earning REEDS Jewelers loyal customers, vendors and employees.
REEDS Service: From our family to yours
All REEDS items come with the exquisite service and quality upon which REEDS has built its reputation since 1946. Longtime REEDS customers remember founder Bill Zimmer standing every day at his store, greeting customers with a smile and remembering every name of any customer he had ever met, and going the extra mile to make every visit and every purchase from REEDS one that was pleasant and enjoyable. Bill's motto was "The harder you work, the luckier you become." To that end, REEDS was one of the first jewelers to provide late night hours to give customers greater shopping convenience. Bill Zimmer's spirit stays with us today, with every REEDS employee working hard to exceed our customers' expectations and make your experience with REEDS exceptional in every way.
REEDS Products: Value and Beauty at an Exceptional price
Since its inception, REEDS Jewelers has been known for its exceptional line of fine jewelry, collectibles, customized and family jewelry, and watches. We offer a broad selection of diamond, precious and semiprecious gemstones, pearl, gold, sterling silver, titanium and platinum jewelry, charms, collectibles and gifts for every occasion and interest for women, men, teens and even children.
REEDS also offers many exclusive lines of high-end jewelry available in our and designer jewelry sections including our . REEDS also offers beautiful value-priced jewelry to fit discerning shoppers of all budgets.
In addition to the many fine brands we carry online such as PANDORA, Alex and Ani, Mikimoto, Scott Kay, Swarovski, and others, REEDS Jewelers is also an authorized distributor in our store locations for many leading designer brands, including David Yurman, Tag Heuer, Omega, Michele, and others.
For more information and to find a REEDS store near you that carries the fine jewelry or watch brand and model you desire, please refer to our REEDS Jewelers store locator or contact us at 1-877-406-3266.
Quality is a Cut Above at REEDS
Devoted to quality, REEDS inspects every piece of merchandise at least twice. The first inspection is done at the manufacturers according to our stringent requirements. A second inspection is done again by our trained quality inspectors after we receive the items before they are declared fit to sell to our customers. Additional inspections occur, such as on any item that has been sized or had custom work done, as well as spot inspections during packaging for shipping directly to a customer or to a store.
Our People, Professional and Passionate
The passion for beautiful jewelry and exquisite service runs deep at REEDS, from our buyers who scour the world to find just the right merchandise to delight our customers, to finance personnel going the extra mile to ensure a refund is processed promptly, to our sales team whose vast knowledge of both products and people can help guide our customers through the most difficult of purchasing decisions, from engagement rings to that perfect Father's Day present.
REEDS provides a rigorous professional training program for all associates who will be working with customers to instill detailed knowledge of gemological factors and a standardized professional and service-oriented demeanor at all REEDS locations, ensuring customers always receive a courteous and knowledgeable experience. The entire curriculum forms our REEDS University, and includes a course from the Gemological Institute of America, which all associates are eligible to study to advance their expertise in gems.
Company History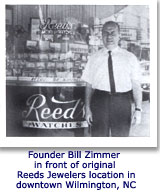 REEDS Jewelers Founder Bill Zimmer was just a kid when he learned how to sell diamonds. His family operated retail jewelry stores. And as he learned the business from his brothers, so later would his children learn from him.
In 1946, Bill and his wife, Roberta, bought a small, downtown jewelry store for sale in Wilmington, North Carolina and changed the name to REEDS Jewelers. Later, the Zimmers opened a store in Whiteville, Jacksonville, and other cities in the Carolinas. By 1979, Zimmer controlled two dozen retail outlets. He and his wife ran the downtown Wilmington store. While they built their business, they also built a family. All four children worked in the family business while growing up.
Alan Zimmer joined REEDS as executive vice president in 1981 and took charge of merchandising. He officially became president and CEO in 1985. As soon as he arrived at REEDS, Alan began instituting major changes to help modernize the growing company. Today, REEDS Jewelers maintains the comfortable atmosphere of a family-run business, even with retail stores in 13 states.
Bill Zimmer, who worked at his first store himself every day until his recent passing, would often express his vast pride in what his son Alan had accomplished. "Alan has built the company," he says.
"I love this business," says Alan. "And the foundation to our company's growth will be the business practices my father taught us… personal service, friendships, and quality goods at competitive prices."